SMALL BATCH BOTTLES
Special Releases & Barrel-Aged 750 mL Bottles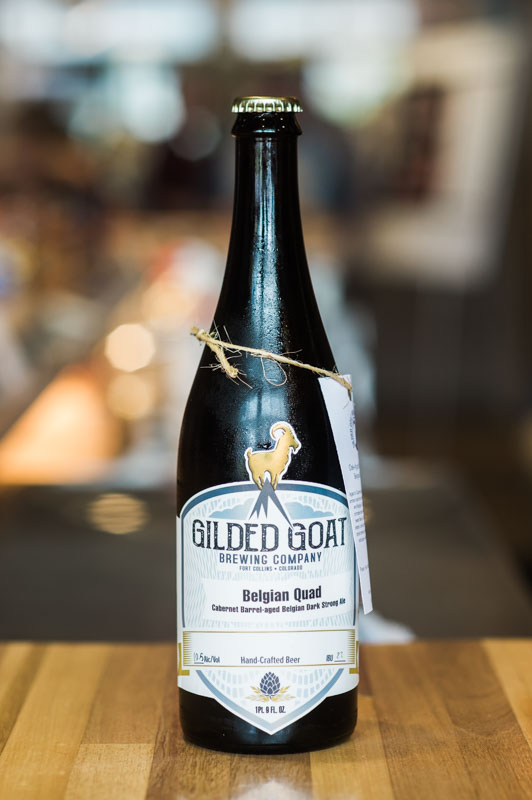 CABERNET BARREL-AGED BELGIAN DARK STRONG ALE
Available Now A dark, complex, strong Belgian ale with a delicious blend of malt richness, dark fruit flavors, and spicy elements. Complex, rich, smooth and dangerous. With low hop bitterness, think molasses, dark fruit, peppery spice, and a medium sweet finish balanced by high, high alcohol. Amen.
ABV 6.5% IBU 22
Malts Pale, Pilsner, Melanoiden, Malted Rye, Belgian Candy Sugar
Hops Hallertau, Styrian Goldings
Pairings Cheese (gouda, havarti, cheddar), meats (beef, smoked meat, game, salmon), and dark chocolate.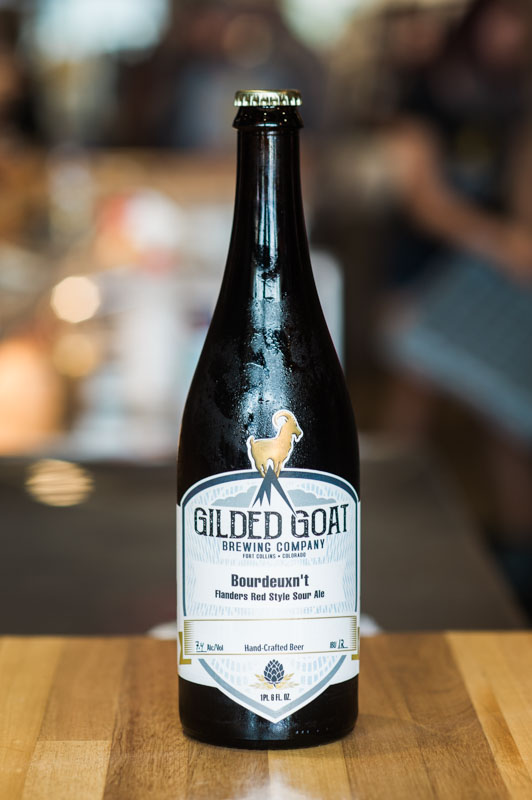 FLANDERS RED STYLE SOUR ALE
Available Now This Flanders Red Style Ale has an approachable sourness with supportive malt flavors and fruit complexity. Ruby red in color, it pours with medium carbonation with aromas of cherries, plums and raisins. The medium body allows the complexity to shine. Long aging in Bordeaux barrels with a blend of microbes gives this beer hints of wine, oak, and tart dried fruit.
ABV: 7.4% IBU: 12
Malts: Rhapsody Pilsner, Crystal 60, Unmalted Wheat, Roasted Barley
Hops: Hallertau
Pairings: Cheese (earthy; Camembert, Fontina, sharp; Blue, Cheddar) Meat (Grilled Meat)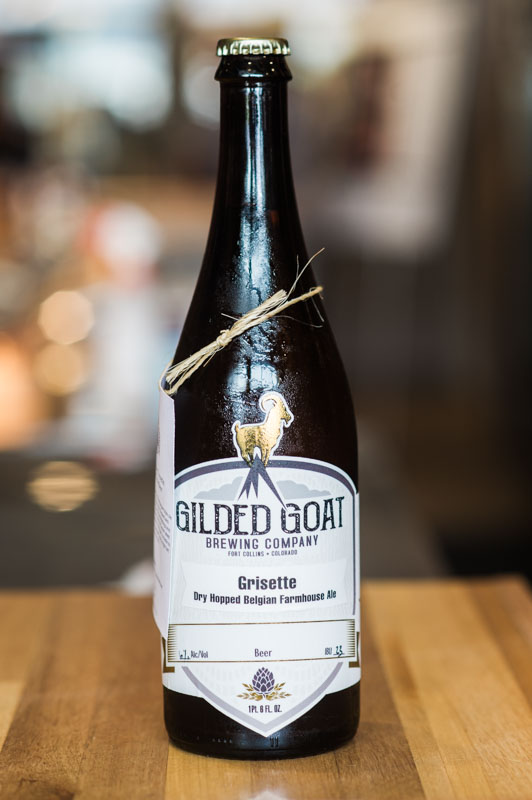 DRY HOPPED BELGIAN FARMHOUSE ALE
Available Now Aged on French White Oak, this highly sessionable Belgian style ale pours a hazy pale, straw color and retains the flavor and complexity of a full bodied beer. Brewed with Colorado malts from Root Shoot Maltings and fermented with a mixed blend of Saison yeast and Lactobacillus bacteria, this is a workers' beer made to refresh: light, citrusy, peppery, and with a tart snap at the end.
ABV: 6%
Bitterness: 23 IBU
Malts: Pilsner, Carapils, Flaked Rye
Hops: Saaz
Pairings: Moules and Frites, Mascarpone, Panna Cotta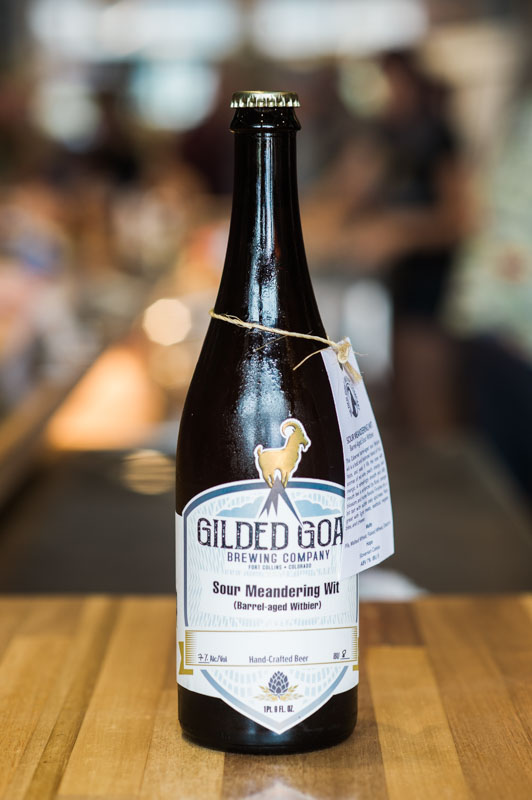 BARREL-AGED WITBIER
Available Now This Cabernet barrel-aged sour Belgian wit is a bold and balanced blend of fruit, hops, and yeast. It fills the nose with aromas of red wine, peach, orange, and mango. A refreshingly smooth and silky mouth feel is enhanced by floral, orange blossom, and honey flavors. Finishes dry, a bit tart with subtle oaky spiciness.
ABV 7% IBU 8
Malts Pils, Malted Wheat, Flaked Wheat, Dextrin
Hops Slovenian Celeia
Pairings Light meats, seafood, vegetables, and cheese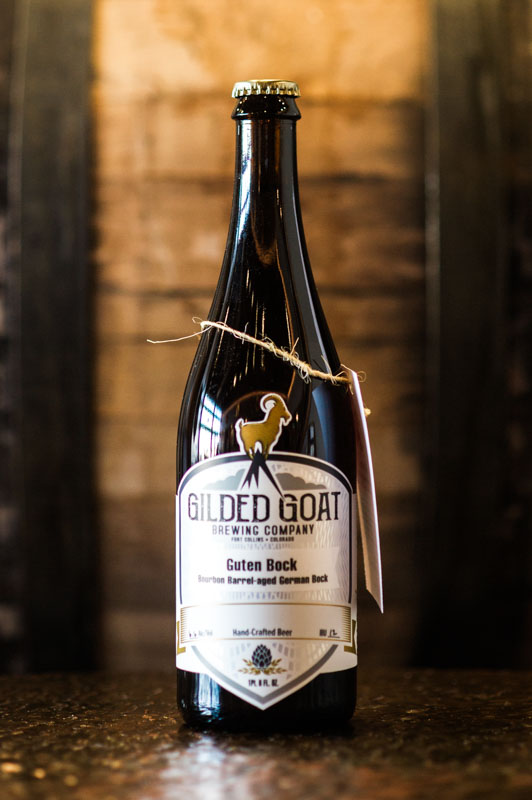 BOURBON BARREL-AGED BOCK
Winter Seasonal Traditional brown German lager; sweet, crisp, and toasty like the old Bavarian bocks. Our lager yeast enhances the caramel aspects of the malt, allowing a balanced sweetness to linger into the finish. Aged in Tennessee Bourbon barrels. Sweet, warm Bourbon on the nose and flavors of coconut, vanilla, and American oak wood.
ABV 6.6% IBU 12
Malts Munich, Rye, Chocolate Wheat
Hops Hallertauer
Pairings Red meats, Cajun foods, Gruyere and Swiss cheeses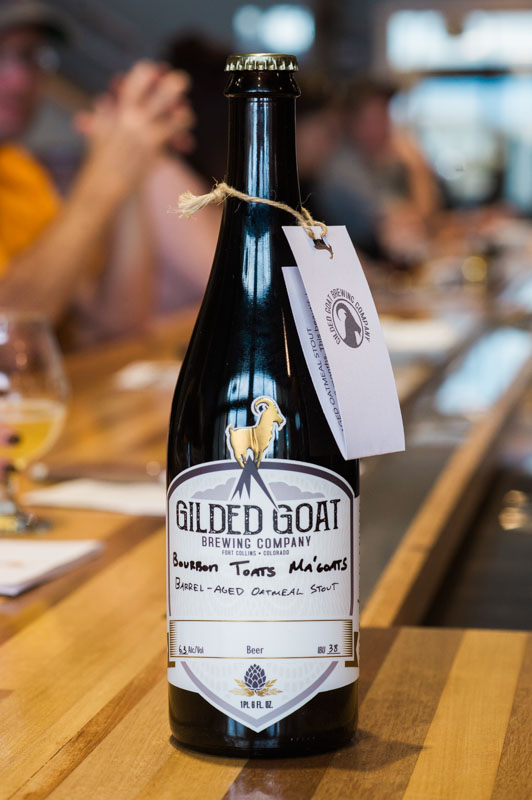 BOURBON BARREL-AGED OATMEAL STOUT
Winter Seasonal A rich Oatmeal Stout topped with a creamy, off-white head. The dark roasted malts give off aromatics of dark chocolate and coffee, while the oats add to its thickness for a smooth, full bodied mouth feel. Finishes with notes of slightly sweet toasted coconut that lingers until your next sip.
ABV 6.3%
IBU 38
Malts Pale, Flaked Oats, Victory, Chocolate Wheat, Flaked Barley, C120
Hops Chinook